Why You Should Consider a Neck Lift
When it comes to a youthful appearance, your neck is one of your most important features. Unfortunately, it is often forgotten and neglected. While men tend to take care of their faces, their necks are a different story, even though the neck often shows signs of aging before the face does. The neglect of the neck skin is one of the many causes of this premature aging.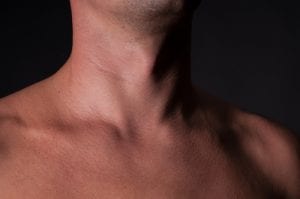 Think about it, while sunscreen and moisturizers are applied to the face and arms, how often is the neck remembered? Another reason for the premature aging of the neck is that the skin is much thinner than the skin on the face and cannot handle the same amount of environmental stresses. Genetics, sun damage, weight fluctuations, and smoking all contribute to loose skin and muscles along the neck. All of these factors can cause loose skin, vertical banding, and an undefined jawline. A neck lift is an option for men experiencing dissatisfaction with the visible aging of their neck. This surgery tightens the underlying muscles and removes excess skin to reveal a more youthful, defined contour.
Eliminates a Double Chin
One of the most telling signs of an aging neck is the development of a double chin or a "turkey wattle." While the presence of a double chin is often the result of weight gain, it can also be a sign of aging. A firm, defined jawline is at the top of many men's lists of aesthetic goals, and a double chin gets in the way of that. A neck lift tightens the underlying muscles so that your jawline is once again defined.
Smoothes Vertical Banding
Sun damage is the primary cause of visible aging. The sun wreaks havoc on your skin, and the delicate neck is often one of the first parts of your body to show this damage. Skin loses its elasticity and structure, and vertical banding forms. This banding is difficult to hide, and as your neck ages faster than your face, it often puts the aesthetic between your face and neck out of balance. Neck lift surgery smoothes out the neck by removing excess skin to create harmony between your features once again.
Improves Confidence
While the neck is easy to forget about when you're younger, and the visible signs of aging have yet to set in, it can be challenging to hide afterward. No one wants to live in turtleneck sweaters all year long. Undefined contours, wrinkles, and loose skin can damage your confidence and self-esteem. Instead of worrying about the condition of your neck skin, consider the benefits of a neck lift. Regain the youthful quality of your skin and improve your confidence.
For more information about neck lift surgery, contact Dr. Calabria by calling his Beverly Hills office at 323.612.0859, his Rancho Mirage office at 760.836.0077, or his Milan, Italy, office at +39.349.4662323 to schedule a consultation.