What Is the Best Facelift for a Man in His 60s?
4 Minute Read:
One of the biggest misconceptions is that cosmetic surgery is only for women. That just isn't true.
As men age, wrinkles appear and skin begins to sag. These signs of aging are most apparent on the face. However, a facelift can help remove these signs of aging from the face.
Facelift surgery is so common that over 18,000 men underwent the procedure in 2020.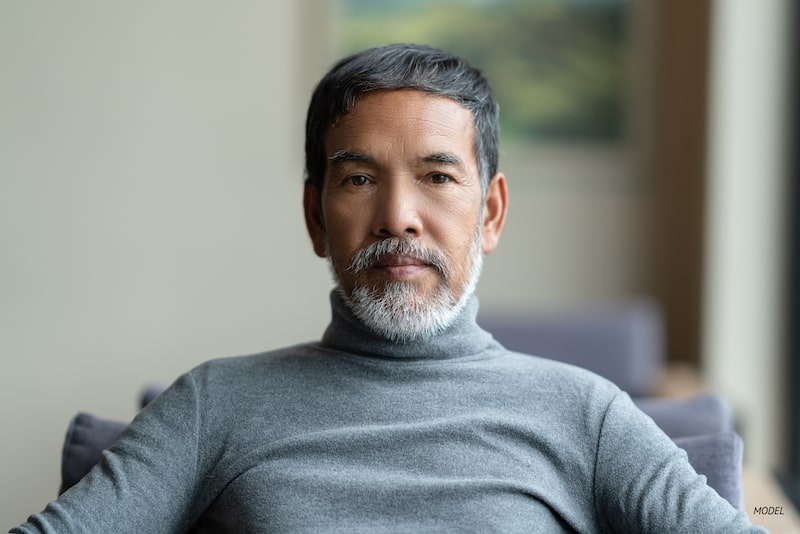 If you are a man looking to restore a more youthful appearance to your face, then the question isn't "Should I get a facelift?" but, instead, "What type of facelift should I get?"
At The Male Facelift, Dr. Calabria offers several different facelift options for men looking to refresh and rejuvenate their facial appearance.
Traditional Facelift
For a traditional facelift, incisions start at the temples and extend down the contour of the face, moving behind the ears, ending at the base of the scalp. Another incision may be made under the chin if the neck is in need of correction.
After the incisions are made, the underlying tissue and muscles are tightened and the skin is elevated. Fat may be removed or redistributed throughout the area to give a more sculpted look, and then excess skin is cut away, if necessary. Once this is done, the skin is redraped, and the incisions are closed.
Pros
After a traditional facelift, the facial skin will have a firmer appearance, and volume that has been lost over time will be restored. Because Dr. Calabria is an expert in male facelift surgery, he knows how male skin differs from female skin — such as it being thicker and having hair-producing areas, like the beard — and how surgical techniques must be adjusted.
Cons
As with any invasive surgical procedure, a facelift includes risks, such as hematoma, infection, and nerve injury. Additionally, while Dr. Calabria will be able to hide a good portion of the incisions in the hair, because of the nature of this procedure, there will be some scarring.
Vertical Facelift
While a traditional facelift takes the tissues and stretches them horizontally, the vertical facelift technique takes the tissues and stretches them vertically so that it is being stretched in accordance with your facial structure. This allows your natural facial contours to be preserved.
Pros
This is a procedure that was pioneered by Dr. Calabria. Because of the vertical technique, you will have the same great results as you would with a traditional facelift, but you will not have the windswept look commonly found with many traditional facelift patients.
Cons
Like with a traditional facelift, the risks associated with surgery remain with the vertical facelift.
Tension-Free Facelift
While the tension-free facelift is still surgical in nature, the incisions are much more minimal. With this type of facelift, incisions are made at the edge of the tragal cartilage (in front of the ear). From these incisions, Dr. Calabria creates suspender flaps in the facial tissue and anchors these flaps to temporal areas beneath the skin. This creates a naturally smooth appearance to the skin.
Pros
Your results will be extensive and dynamic, but you will have minimal scarring because of the smaller incisions made. Because of the anchors used (and the additional support they provide), the results of tension-free facelifts usually last longer than other forms of facelifts.
Cons
Because of the nature of this facelift, the coverage of the face that is focused on is not as extensive as a traditional facelift would offer. Additionally, there is the risk of infection and bleeding with a tension-free facelift.
Stem Cell Enhanced Facelift
Stem cell enhanced facelift is a minimally invasive technique that still gives quality results to the face, restoring youthful firmness while creating a smoother look and feel to the surface of the face. With this type of facelift, fat is extracted from another part of your body (stomach, flanks, etc.).
This extracted fat is then given an enzymatic treatment that separates the regenerative cells from the fat cells. These regenerative cells are then injected into your face, restoring lost volume and improving the texture of your facial skin.
Pros
While other types of facelifts target the deep muscle layers of the face, they don't treat the surface. With a stem cell enhanced facelift, the surface layer is treated to give a visible rejuvenation to the skin. Because of the nature of this procedure (injection), there will be no visible scarring and less risks than with other facelift procedures. Additionally, because the fat is extracted from parts of your body, you will receive a slight amount of body contouring.
Cons
While it is a pro, the fact that a stem cell enhanced facelift only treats the surface layer of the skin as opposed to addressing the deeper levels means that there will be less long-lasting effects with the stem cell enhanced facelift technique. This means that you may need to have maintenance treatments to keep your results looking good over time.
Our Photo Gallery
If you would like to see some of the great results Dr. Calabria has offered his patients, then visit our male facelift before and after gallery.
Interested in Male Facelift Procedures?
If you are a man and want to restore your appearance to a more youthful look, then set up a consultation with Dr. Calabria today. You can fill out our online form or reach our Beverly Hills office at (310) 777-0069, our Rancho Mirage office at (760) 836-0077, or our Milan, Italy, office at +39.349.4662323.