Never Say "I Used to Be Handsome"
5 Minute Read:
One of the most common misconceptions regarding cosmetic surgery is that it is only for women. But men can feel just as self-conscious about their appearances and plastic surgery can help. In fact, in 2020, over 13 million male cosmetic procedures were performed on men.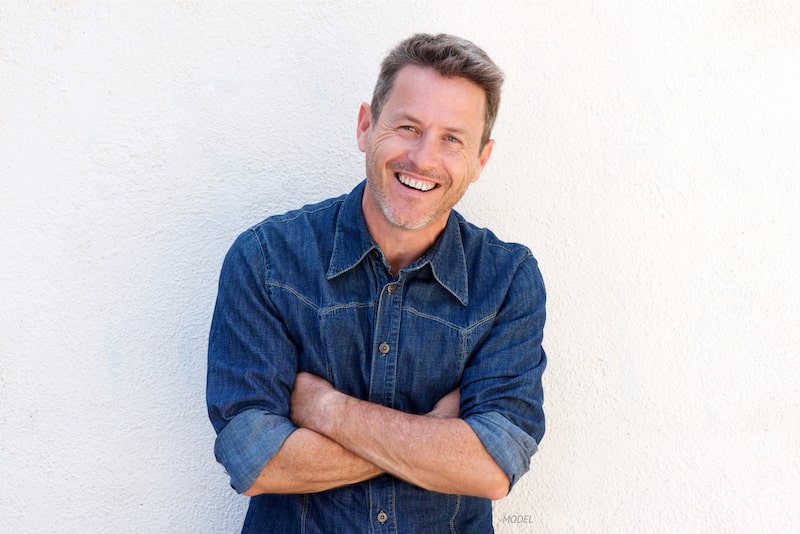 Like women, men can find the signs of aging distressing. And while they may long for the more handsome days of their youth, plastic surgery can rejuvenate their facial appearances so that they can look years (or even decades) younger.
After their cosmetic procedure, men may no longer dwell about those "more handsome" days that have passed them by. Instead, they'll feel more confident and comfortable in the way they look so that they can walk around the park or beach with a smile on their face.
What Are Your
Male Facelift Options?
Facelift surgery is performed to tighten sagging skin in the lower two-thirds of the face and lift underlying facial muscles to give a smoother, more contoured appearance.
However, men also tend to desire a more rugged and masculine appearance. This is achieved by focusing on the shape and aesthetic of the jawline.
Dr. Calabria offers several different male facelift options.
Traditional Facelift
Traditional facelift surgery is performed as an outpatient procedure under general anesthesia. After the anesthesia has been administered, Dr. Calabria will make an incision beginning at your temples and running along your hairline. The incision may stretch in front of your ears.
The underlying facial muscles are tightened with internal sutures, and excess skin and fat are removed.
The incisions are then closed, and you'll begin your facelift recovery.
Vertical Facelift
Where a traditional facelift stretches the facial skin horizontally, toward the ears, vertical facelift surgery tightens the skin vertically to create a more natural facial aesthetic.
This facelift technique, pioneered by Dr. Calabria, is performed under general anesthesia.
The incision is made in the hairline and extends behind the ears. One of the benefits of this technique is that the hairline is preserved. The facial musculature and subcutaneous fat is then lifted upward to its original position.
This procedure will help get rid of the appearance of wrinkles, smoothen out facial skin, and give a more natural facial aesthetic.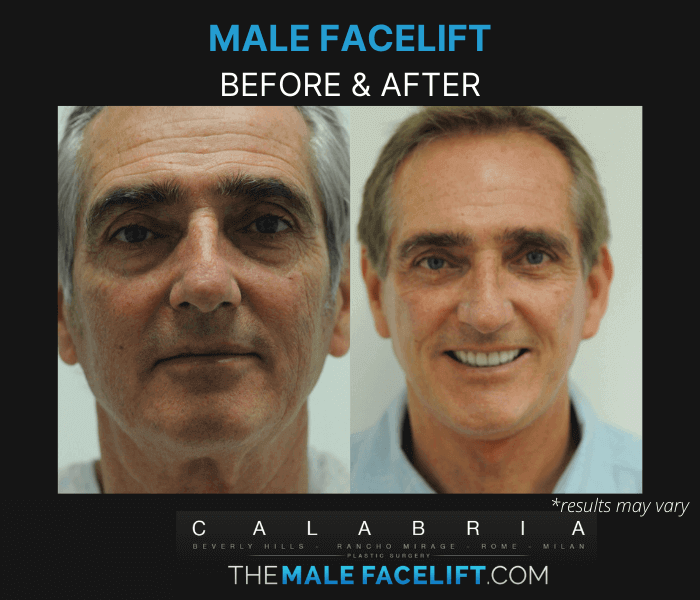 Interested in seeing more transformations? Visit our male facelift before and after photo gallery.
Regenerative Facelift
A regenerative facelift procedure is the perfect facelift procedure for men who have lost facial volume but do not suffer from sagging skin.
Men with these conditions may not want to undergo a full facelift because they don't need the skin tightening aspect.
A regenerative facelift is a minimally invasive procedure in which stem cells are harvested from your body (usually from your abs, thighs, hips, or back) and combined with fat cells. This mixture is then injected into your facial skin (both under and over the musculature) in fine, even layers with the use of micro-cannulas. This helps the face have improved volume and skin texture.
Cell Enhanced Facelift
With cell enhanced facelift surgery, Dr. Calabria combines a regenerative facelift treatment with a vertical facelift.
Like a regenerative facelift, stem cells are harvested from fat in another area of your body. A vertical facelift is performed, and after the incisions are closed, Dr. Calabria injects the stem cell and fat mixture into your face to give you a smoother, more natural and chiseled facial appearance. Additionally, this procedure allows for your facial tissue to regenerate and become healthier.
Tension-Free Facelift
Tension free facelift surgery is performed under general anesthesia. Unlike with traditional facelift surgery, the incisions for a tension free facelift are located higher up on your ear, at the edge of the tragal cartilage.
This helps hide the appearance of scars that often result from other facelift techniques. After the incisions are made, Dr. Calabria uses facial tissue to create flaps that act as suspenders. These flaps are anchored in place with internal sutures to shift tension to the anchors instead of on the incision.
The incisions are closed, and then you'll be ready to recover so that you can show off your newly restored, handsome face.
One Stitch Facelift
One stitch facelift surgery focuses on lifting the patient's cheeks and minimizing the appearance of the nasolabial folds.
Once the anesthesia has been administered, Dr. Calabria will make a small incision on each side of the temporal hairline. The skin is lifted toward these incisions at the temple and then anchored in place with internal sutures.
The incisions are then closed, and you are ready to show off your contoured facial appearance.
With this procedure, there is little to no downtime and virtually no visible scarring.
What Are Your Facial Implant Options?
For men who are frustrated with the contours of their lower face, facial implants may be exactly what they are looking for. Facial implants help to give more definition to the cheeks and jaws while also helping achieve a more youthful appearance.
Dr. Calabria offers three types of facial implants: cheek, chin implants, and angle of the mandible implants.
Cheek Implants
Cheek implants add a healthy volume to your cheeks, which can create a more balanced appearance to the whole face. These implants are inserted through incisions made within the mouth, which means that there are no visible scars.
Cheek implants offer a longer lasting improvement than what facial fillers can give.
Chin Implants
Chin implants help men with a poorly defined chin. The projection and shape of the jaw can be improved with chin implants, while also allowing for the lower face to look more contoured to the rest of the face.
Since the chin is such an important aspect of the male face, having a strong chin shape will help give you a more masculine appearance.
This implant is inserted within the mouth or beneath the chin, depending on the specific patient and size of implant.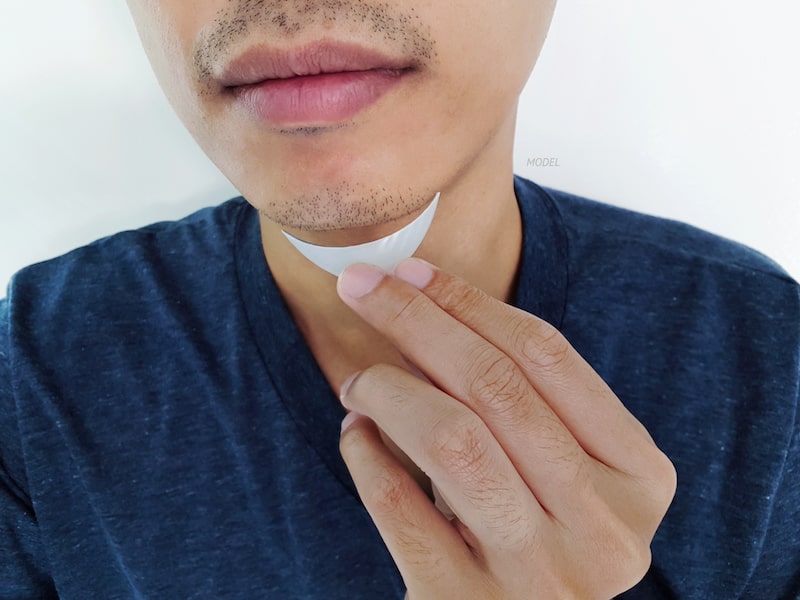 Angle of the Mandible Implants
Jawline implants (mandibular implants) help create a stronger, more chiseled and masculine jawline, and the best part is that there is no visible scarring with this procedure since these implants are placed through incisions within the mouth. After having these implants inserted, you can feel more comfortable and confident in your facial shape and structure.
Interested in Learning More?
If you are ready to give your face the masculine, handsome look you desire, call our Beverly Hills office at (323) 612-0859, our Rancho Mirage office at (760) 836-0077, or our Italy office at 39.349.4662323, or use the online contact form to schedule your consultation.