Not Ready for Surgery? 3 Non-invasive Options for Men
3 Minute Read:
It's an undisputed fact that men are increasingly seeking the help of plastic surgeons to reach their aesthetic goals. But there are still many men who feel apprehensive about going under the knife—instead, opting for lesser invasive procedures that enhance appearance without surgery.
The slate of non-invasive cosmetic procedures continues to expand and improve with advancements in technology, offering men a number of treatment options to help restore youthfulness.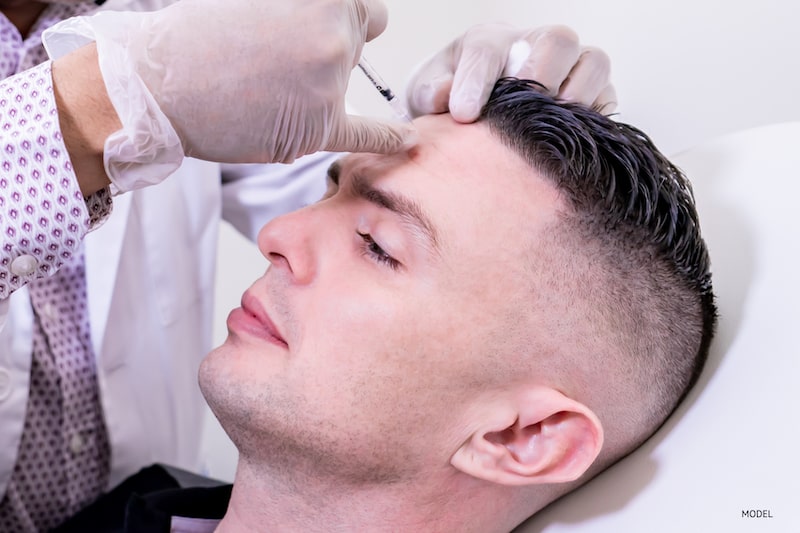 Many of these non-invasive procedures offer a quick and effective solution that requires little to no downtime. The cost of treatment is also cheaper than more invasive cosmetic surgeries (although they are not as permanent).
Here are some of the most effective and popular non-surgical procedures worth considering.
1. Injectables
Injectables are a popular treatment for aging skin. As time passes, our skin loses its elasticity, leaving behind wrinkles, creases, and lines on the face.
Injectable treatments, such as BOTOX® Cosmetic and dermal fillers, have been touted as convenient options for correcting undesirable effects of skin aging. BOTOX® Cosmetic injections—when inserted into the target area—block nerve impulses to the muscles responsible for expression/frown lines.
It's administered through a few tiny injections in a 10-minutes session and offers improvements lasting up to four months.
Fillers, on the other hand, reduce the appearance of wrinkles and add volume and fullness to the skin. They can also be applied to the lips for a more youthful look.
Common types of facial fillers include JUVÉDERM® and Restylane®. These are cosmetic facial fillers made of hyaluronic acid that instantly restores your face's volume and smoothes away folds and facial wrinkles. Results of dermal fillers can last between six months and two years.
2. Thermage®
For some people, the first signs of aging appear in the form of wrinkles and loose skin. Thermage® can be used in different areas of the face and body to deliver tighter, younger-looking skin.
It is an effective skin tightening treatment that delivers radiofrequency waves of heat to skin layers, promoting collagen production and tightening the skin tissue. It's a commonly preferred procedure among men due to its fast-acting and subtle nature of offering optimal results.
3. Pulsed Light Laser
Just like women, men are also susceptible to age spots, hyperpigmentation, redness, sun damage, rosacea, acne, and other skin issues that affect skin tone and texture. Fortunately, these skin conditions can be effectively treated using a pulsed light laser to restore a clear and even skin tone.
Pulsed light laser treatments use light energy to target pigmented and damaged skin cells. Upon being damaged, the unwanted pigment and damaged tissue are naturally sloughed away from the body. The procedure can be completed in 30 to 60 minutes and has zero downtime.
Interested in Learning More?
Not ready for surgery?
Dr. Calabria can help you determine the best non-invasive procedures for your particular trouble areas and skin issues. Contact us today at 323-612-0859 (Beverly Hills) or 760-836-0077 (Rancho Mirage) or fill our online form to schedule a consultation.