Men's Facelift Recovery Guide
5 Minute Read:
Today, men want to look as polished and youthful as any of their female counterparts, and they are not shy about seeking out plastic surgery to do so.
More men than ever are turning to procedures like the facelift to lift sagging skin, reduce wrinkles, and rejuvenate their appearance.
Getting a facelift is a significant decision that comes with both noteworthy results and noticeable downtime—especially in those first few weeks as patients start to heal after surgery.
For men about to get a facelift, learning what to expect during the recovery process can help tremendously to ensure the days and weeks after surgery go as smoothly as possible.
Week 1: Rest Is Crucial
Symptoms to expect: Swelling, bruising, and some discomfort on surgical sites. There may also be excess blood or fluid (removed with surgical drains).
The first week after facelift surgery is typically the most uncomfortable, as swelling and bruising are at their highest. Your surgeon may prescribe pain medication to manage the worst of it.
Patients will usually need to have a bandage or compression garment around their face to minimize discomfort during this time. In addition, they must rest with their head elevated.
It is essential to take as much time as you need to rest. This could be tough for men, who are used to "roughing it out," but the body needs rest for the natural healing process to occur.
Take time off work, avoid physical activity, and enlist someone to help around the house, if needed.
Week 2: Back to Basics
Symptoms to expect: Mild swelling and discomfort.
By the second week, many of the initial symptoms should start to subside, but it is important to still be careful. Surgical sites will be tender for several weeks.
It is still recommended that men sleep with their heads elevated to minimize any swelling that is still apparent.
Men can resume some level of activity at this point, but it is still far too early for most men to get back into a normal day-to-day routine. Any additional rest can be extremely useful.
Be sure to check with your surgeon for instructions on how to manage surgical sites and activity levels after surgery.
After Week 2
After two weeks, most men can start to return to their regular activities and routines. Men should be mindful of how their incisions feel and should work back into more strenuous activities slowly.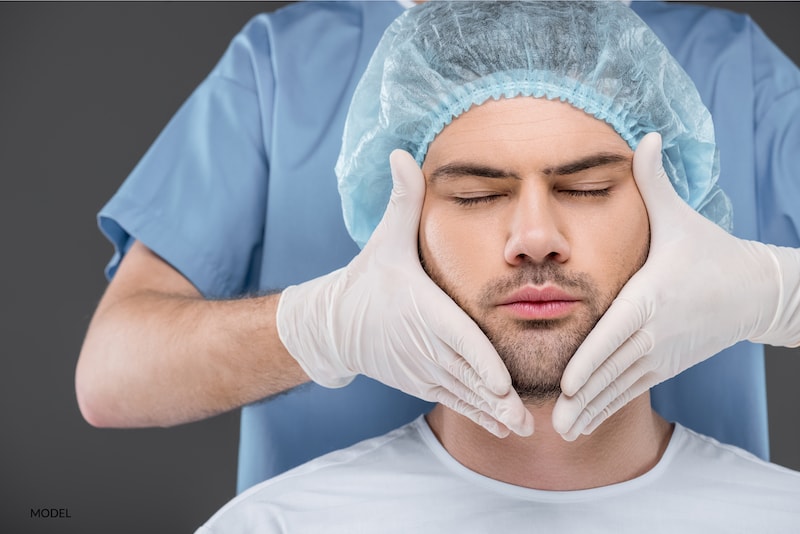 When you're considering a facelift procedure, it's common to have questions about your recovery period. It's helpful to know what to expect during a typical recovery period, from the initial weeks to full recovery. The overall success of your facelift surgery is not only dependent on how the procedure is carried out but also on how well your surgeon's post-operative care instructions are followed.
Week 3
By the third week, many men are recovered enough to go back to work, but some precautions are still necessary to ensure the best outcomes.
Your sutures (if used) will be removed, although this can happen earlier in your recovery period, depending on your particular procedure and your progress. Residual swelling and tightness may not have subsided completely, but things should start to look and feel better in the coming days.
At this point, most men can resume their regular activities and routines without people noticing much. It is important to avoid any high-impact activity, such as aerobics, running, yoga, etc., as it can result in swelling and discomfort.
The real anti-aging improvements start to show by the end of week three, and you can expect the beauty of your new look to continue to reveal itself over time.
Week 4 and Beyond
At week four, patients may still be experiencing minor swelling, bruising, and tightness. The lumpiness and other mild side effects may not completely subside until about six weeks after surgery. Residual swelling may persist for longer if the central face or cheek area is manipulated during the facelift procedure.
Overall, be prepared to wait for at least six months to see the full results and for your facelift to heal inside and out.
Taking good care of your skin is critical in the weeks and months following your surgery. Always remember to stay out of the direct sun. Even when you are out in the sun, it is recommended that you wear sunscreen and a wide-brimmed hat for extra protection. Staying out of the sun helps scars heal as inconspicuous as possible, especially considering men tend to bruise and bleed more than women.
Patience is critical in the whole recovery process. A key thing to note is that everyone has a unique healing process and outcome. During your entire recovery period, make sure that you have follow-up evaluations with your doctor, both as scheduled and whenever you have any questions about your facelift healing and results.
Interested in Learning More?
Schedule a consultation with Dr. Calabria by calling our Beverly Hills office at 310-879-1488,
Rancho Mirage office at 760-836-0077, or our Milan, Italy, office at +393494662323. You can also use our contact form online.