Why the Eyelid Lift Reigns Supreme Among Baby Boomer Men
2 Min Read:
"Our eyes say it all." Isn't that how the adage goes?
Eyes are one of the most expressive features that we have on our face.
For most of us, our eyes tell the story of who we are and what we have been through. That's a lot of pressure for an area with some of the most delicate skin we have.
And our eyes often cave to that pressure, causing wrinkles and lines on all the areas that touch them.
For Baby Boomer men, these symptoms are common.
But directly addressing these developments with an eyelid lift can reverse signs of aging along the face.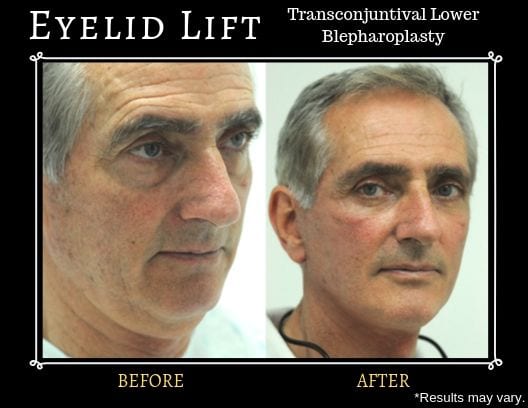 What Is an Eyelid Lift? What Does it Do for Men?
Also known as eyelid lift surgery, blepharoplasty is used to remove loose skin and sagging tissue that creates an aged appearance. There are two types of eyelid lifts that treat different parts of the face: upper and lower blepharoplasty.
These procedures lift eyelid tissue so eyes look brighter and more alert.
How Blepharoplasty Gives Boomer Men a Boost
Getting an eyelid lift can help Baby Boomer men reverse the clock while retaining masculine contours for a natural appearance.
Brightens Eyes
Because the skin around the eyes is so delicate, it's very susceptible to aging.
Wrinkles and creases occur quicker, especially underneath the eyes, which also tend to get puffy. In addition, loss of volume leads to eyes that cause men to have a sunken or hollow appearance.
Refreshes the Face
Because the eyes are such a focal facial point, blepharoplasty tends to create a better appearance throughout the entire face.
An eyelid lift can be the surgical equivalent of getting a really good night's sleep, so to speak. Eyes immediately look younger, providing an overall rejuvenating effect to the rest of the face.
Avoids More Surgery
Blepharoplasty corrects aging concerns like dark circles and puffiness with minimal scarring left behind. This makes it an attractive option for Boomer men who don't want to make it obvious they've had some surgery done.
What's more, an eyelid lift can prove to be all a man needs to look a little bit better. Most men, particularly Boomer men, are wary of looking "overdone."
An eyelid lift offers enhancement with results that look like natural rejuvenation. Men simply look more refreshed.
Interested in eyelid lift surgery? Schedule a consultation with Dr. Calabria at our Beverly Hills offices at 323-612-0859, our Rancho Mirage office at 760-836-0077, and our Italy offices at +39-349-4662323.