Facial Rejuvenation Without Surgery
Some typical signs of facial aging include skin laxity, volume loss, wrinkles, poor skin texture, and lack of definition. Many men assume that they need to schedule and mentally prepare for an invasive surgical procedure to minimize the appearance of these bothersome imperfections. The good news is that there are non-surgical facial rejuvenation options for men who are hesitant to undergo surgery. Non-invasive facial rejuvenation can be achieved using a number of modern injectable products, each of which is designed to address specific aging needs.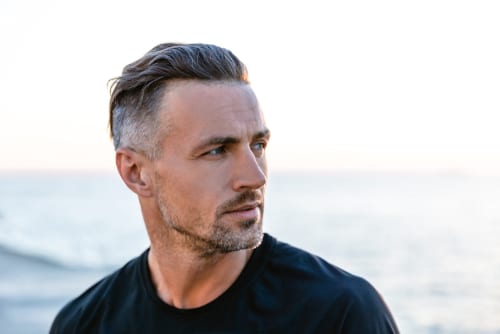 Your Non-Invasive Facial Rejuvenation Options
If you want to restore a youthful aesthetic to your face without a lengthy recovery period or necessitating general anesthesia, Dr. Calabria offers several non-invasive facial rejuvenation approaches. Some men benefit from a combination of injectables, while some may achieve their desired result with just one. Depending on your needs, you can choose from the following injectable products:
BOTOX® Cosmetic: This popular injectable contains a safe neurotransmitter inhibitor that is used to reduce specific muscle movements that cause facial wrinkles. It can minimize creasing between the brows as well as across the forehead.
JUVÉDERM and Restylane®: These hyaluronic acid dermal fillers can smooth visible wrinkles such as nasolabial folds and perioral lines (around the mouth). Hyaluronic acid is a hydrating material that is produced naturally by the body, so neither JUVÉDERM nor Restylane® contains animal-derived substances.
RADIESSE® and Sculptra® Aesthetic: Both of these injectable fillers are designed to restore volume to areas of the face that have recessed or hollowed due to aging, including the cheeks. They can also be used to enhance facial definition and accentuate the contours along the jawline and other areas. Additionally, they trigger the production of new collagen for lasting and natural results.
Are You a Candidate?
The best candidates for non-surgical facial rejuvenation treatment are in good health and have a realistic expectation of the outcome of their procedure. Men with minimal skin laxity who struggle with fine lines, wrinkles, and volume loss may want to consider non-surgical facial rejuvenation to obtain a refreshed and revived appearance. Those who wish to enhance their masculine facial contours can also opt for this treatment. For permanent facial definition results, facial implants may be recommended.
For more information about your non-invasive and surgical facial rejuvenation options, please schedule a private consultation with Dr. Calabria.
Improved Results With Thermage® Treatment
While injectables can produce a smoother and younger-looking complexion, they do not treat the underlying tissues as well as other procedures. Some may necessitate surgical correction like facelift, upper or lower eyelid, or brow lift surgery, but others can achieve their desired results with radiofrequency (RF) technology. Thermage® is a revolutionary new approach to facial rejuvenation that does not involve any incisions or discomfort. The most significant benefits of Thermage® treatment are as follows:
Non-surgical facial rejuvenation
Appropriate for all skin colors
Requires zero downtime
Produces noticeable improvement to the face
How Thermage® Works
RF technology: Thermage® utilizes refined and high-tech RF energy, which can help tighten sagging facial tissues. The device delivers heat generated by RF waves deep into the compromised collagen in the skin. This energy tightens the collagen fibers, which improve the texture and structure of the skin.
Deep treatment: The skin has three layers: the epidermis (outermost), dermis (middle), and subcutaneous fat (deepest). Thermage® addresses all three layers of the skin by tightening the collagen web with advanced facial rejuvenation technology. The collagen web in the skin tends to relax with age, but Thermage® reverses this effect to produce beautiful and natural results.
Your Unique Facial Rejuvenation Journey
Not all patients qualify for non-surgical treatment to reverse signs of aging, such as facial creases, poor skin texture, and skin laxity. To find out if you can benefit from non-invasive facial rejuvenation with Thermage® or injectable products, you should speak to an experienced and knowledgeable plastic surgeon who understands the complexities of facial anatomy. During a private and thorough consultation appointment, Dr. Renato Calabria can assess your condition to determine the best course of action to meet your cosmetic expectations.
If you would like to schedule your facial rejuvenation consultation with Dr. Calabria, please call our Beverly Hills office at (310) 879-1488, our Rancho Mirage office at (760) 836-0077, or our Italy office at +39.349.4662323.