Eyelid Lift or Brow Lift: Which Do I Need?
The realization that aging has set into your face is both discouraging and frustrating. While we all understand that time will eventually cause a downward spiral for our skin quality and facial appearance, early aging is a condition that doesn't sit well with most people, since it often creates a disconnect between the way you look and the way you feel.
Between environmental factors, the constant movement of the eyelids and brows, and the fact that skin around the eyes is among the thinnest on the body, the upper facial area ages much quicker than other body parts, which often leads to an imbalanced appearance. There are several procedures to address aging in the upper face, including upper blepharoplasty, transconjunctival lower blepharoplasty, and an endoscopic brow lift. While these all provide natural-looking, upper-face rejuvenation, they may not all be right for you.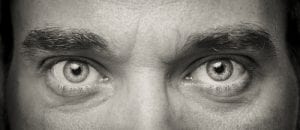 For many men, determining which procedure is ideal for their aesthetic concerns is as frustrating as the aging skin itself. While Dr. Calabria offers in-depth consultations to guide you on your facial rejuvenation journey, understanding the reasons for your facial aging and what you hope to accomplish from the procedure will help you achieve the highest level of satisfaction.
Upper Blepharoplasty
Excess skin and pockets of fat on the upper eyelid result in both aesthetic and functional concerns. As excess skin gathers on the top lid, your eyes will appear smaller, older, and more hidden. This will not only affect your range of vision, but it will also result in a tired appearance.
Dr. Calabria offers surgical upper blepharoplasty to restore natural-looking youthfulness to the eyes by removing small amounts of excess skin and fat, which leaves you looking more awake and revitalized. In this procedure, a small incision is made in the crease of the upper eyelid to remove the responsible skin while maintaining a rugged, masculine aesthetic.
Transconjunctival Lower Blepharoplasty
When your aging concerns stem from heavy bags and circles under the eyes, lower blepharoplasty is the ideal course of action. Puffy bags under the eye are a result of excess skin and fat that have been forced to deal with gravity. Through a procedure known as transconjunctival lower blepharoplasty, Dr. Calabria removes and redistributes facial fat beneath the eye through tiny incisions made inside the lower eyelid. By making the incisions at this location, no visible scarring will occur, and the recovery will be minimal.
Endoscopic Brow Lift
The need for brow lift surgery often goes unnoticed, as its symptoms are commonly misperceived as upper eyelid laxity. Much of the aging that plagues men's upper faces is due to brow laxity rather than eyelid laxity. As the skin and tissue of the brow weaken and gravity pulls it downward, the excess weight of the forehead and brow put pressure on the upper eyelid, causing it to appear puffier than it is.
Dr. Calabria performs endoscopic brow lift on men by making small, discreet incisions in the hairline through which a small surgical camera is inserted to allow for proper visualization of the procedure. It is through these same incisions that Dr. Calabria lifts and tightens the underlying tissue. Endoscopic brow lift surgery results in a natural subtleness that will never look overly tightened.
If you are tired of your upper facial aging, contact Dr. Calabria today to set up a consultation. You can call our Beverly Hills office at 323-612-0859, our Rancho Mirage office at 760-836-0077, or our Milan, Italy office at +39-349-4662323.