Are More Men Considering Facial Surgery Due to COVID?
2 Minute Read:
It has been widely noted that facial plastic surgery has been increasing over the past year. Most people claim that this increase is directly linked with the rise in virtual meetings through Zoom and other platforms, as more people continue to work remotely due to COVID-19.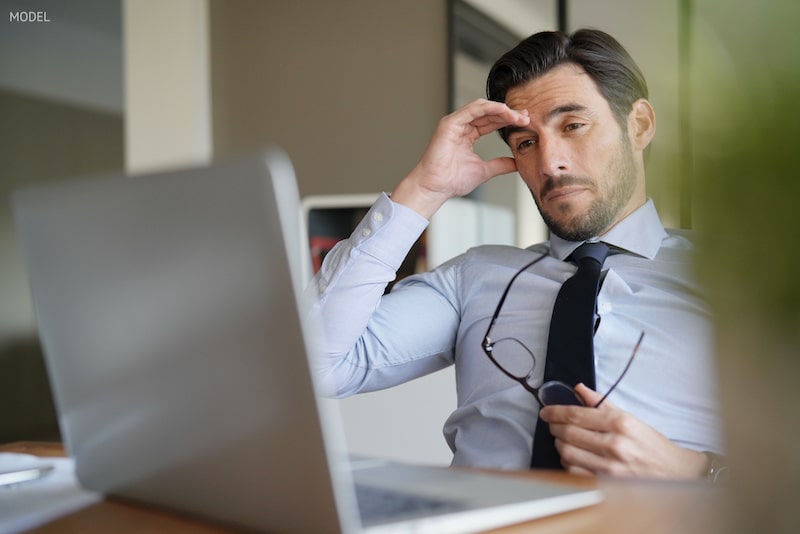 The sight of our faces on these virtual meeting apps has only made us more aware of our aging features and other things that could be potentially wrong with our facial appearance.
You start to notice the wrinkles, frown lines, and crow's feet on your face and start to compare your appearance with others, often wondering whether these flaws had been there all along.
It is for this reason that cosmetic surgeons all around the world are reporting a surge in demand for facial enhancement procedures.
Interest in facelift procedures has grown significantly. And this isn't only affecting women. Men are also seeking facial surgery.
Many men are paying attention to the way they look. They want to make sure that they continue to look young, active, and full of life, whether they are trying to remain competitive on the job scene, planning to re-enter the dating world, or wanting their outward appearance to match their inward vitality.
And the best thing is that it is becoming more acceptable for them to do something about it.
Why More Men Are Considering a Facelift Right Now
In this working-from-home age, many men — especially those who had considered cosmetic surgery in the past but postponed the idea — are now realizing that they can easily have the procedure performed and recover inconspicuously at home, as the bruises and swellings fade.
In normal times, finding time off work to stay at home post-surgery was a huge hurdle.
Since this dynamic has changed with the pandemic, it makes sense that many individuals would want to take advantage of these times of limited social interactions to have their dream procedures done.
Further, recovery has been made easier by the widespread use of face masks, which neatly disguise any signs of facial surgery. When all is said and done, this is an opportune moment to have surgery and keep it completely private.
Interested in a Facelift Procedure?
Don't let loose or sagging skin get in the way of your good looks. With facelift surgery, we can redefine your facial profile and highlight your strongest features so that you can put your best face forward.
If you are interested in a facelift procedure or any other cosmetic treatment, feel free to get in touch with us by filling our online form to schedule a consultation with Dr. Calabria.
We only use facelift techniques that address your individual concerns while preserving your naturally masculine features. Let us evaluate your concerns today and find you the best option to achieve your aesthetic goals.